Maximising space and promoting a feeling of spaciousness, sliding pocket doors are the ideal choice for accommodation that is built to meet modern needs.
The chronic housing shortage across Britain continues to make headlines. The National Housing Federation estimated 974,000 homes were needed between 2011 and 2014 but figures from 326 councils show that only 457,490 were built. Estimates put the need for additional housing in England at between 232,000 to 300,000 new units per year, a level not reached since  the late 1970s and two to three times current supply.
Simon Rubinsohn, chief economist at the Royal Institution of Chartered Surveyors (Rics), has said lack of supply is a key issue.
'The legacy of the drop in new-build following the onset of the global financial crisis is now really hitting home, with both the sales and letting markets continuing to show demand outstripping supply.'
This has had a lasting impact on people's lives, with most of those aged under 45 putting milestones on hold, according to research by the charity Shelter. The research, conducted by pollsters YouGov, found that 59 per cent of people surveyed had postponed major life decisions, such as marriage, or starting a family.
As a result, first-time house buyers are now 38 years old, on average. This is expected to rise to 41 by 2025, according to financial services firm London Victoria. With private rents rising at their fastest rate in three years, there is more pressure on those wanting to save for a mortgage deposit. The response of the Government to boost home ownership, via the Starter Home scheme, has been criticised, as the houses it covers are considered out of reach to most people on 'ordinary incomes'
London is a case in point. The report Redefining Density by London First – a study undertaken with Savills – argued for a programme of 'housing densification' and predicted a 'new wave of housebuilding' if local authorities made better use of land. 'It shows that London is not a dense city compared with the centres of other major cities such as Paris and Madrid. Leaving aside areas of green space, the Green Belt and water, there are many parts of London that have good transport links but low housing density,' according to the authors.
The constraints are clear. With the ongoing housing shortage and associated escalating costs, there is the need to maximise space on a floorplan wherever possible. Every extra inch achieved is cost effective for the developer and the residents.
The traditional hinged door is seen as a prime culprit when it comes to wasting space in a compact interior. The area needed for the swing space – about 10 square foot – is essentially 'dead'. It has to be kept free of obstacles. For example, the choice of a hinged door for a small bathroom can make this already restricted space feel cramped and unwieldy. In addition, potential storage space on the wall where the open door rests is also lost. Fortunately, architects involved in key developments are increasingly making use of an innovative tool to effectively increase the available space – the Enigma sliding pocket door system.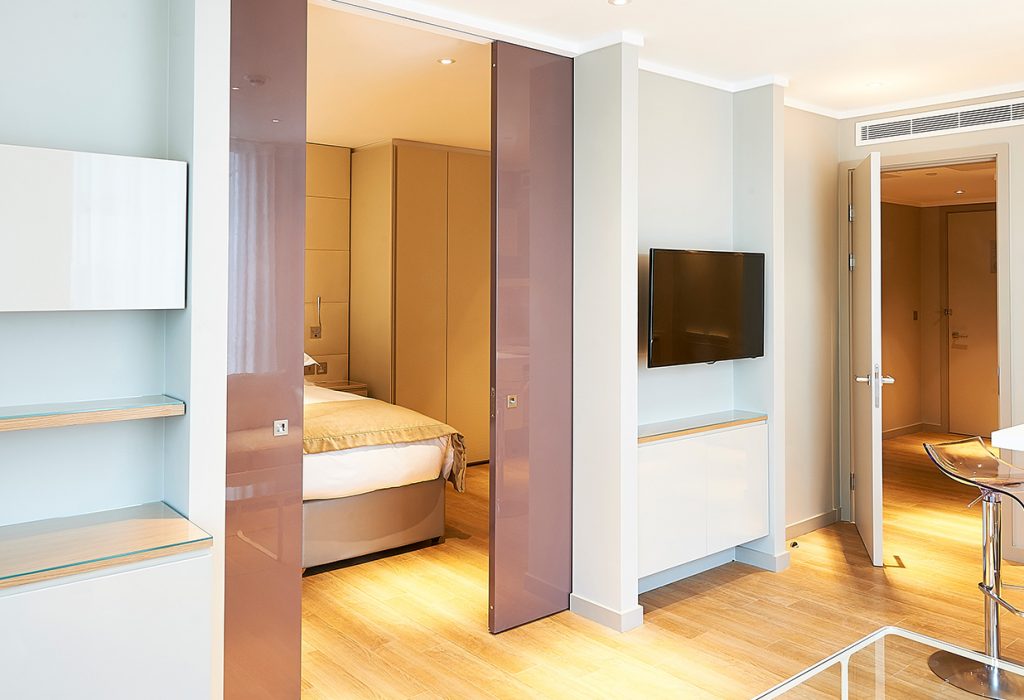 Not just a sliding door, the Enigma system includes a cavity within the wall, into which the door passes, out of sight.
Interior design experts have long been singing the praises of the Enigma, highlighting these benefits:
› Its key appeal is the opportunity to save space – up to 10 square feet. The door takes up no more space than the wall.
› It's the ideal solution for a tight space, such as a bathroom, where there simply isn't space for a swinging door.
› It suits any interior, traditional or modern. You can select an appropriate finish to match the style of the setting.
› It is a popular choice to separate or connect two rooms. It adds versatility to a space, enabling you to add privacy to a home-office nook, for example.
› A sliding pocket door can enhance a home's modern style, or add a luxury touch, when leading to a dining room or bedroom.
› While it has different installation requirements to a swing door, the Selo system is easy to install.
› The discreet design adds a feeling of spaciousness by making your walls appear seamless and uninterrupted.
› It operates on a top-hung track, leaving the floor free of obstructions.
› A glass pocket sliding door can be used to let in light.
The Enigma system includes a sturdy pocket for the door, in the wall into which it slides. This uses aluminium profiles and is based on a stud partition head-and-base track and side studs. It is plasterboarded over with the rest of the wall, for a seamless finish. This versatile system offers three trim types: concealed, visible (for use with architraves), and shadow gap.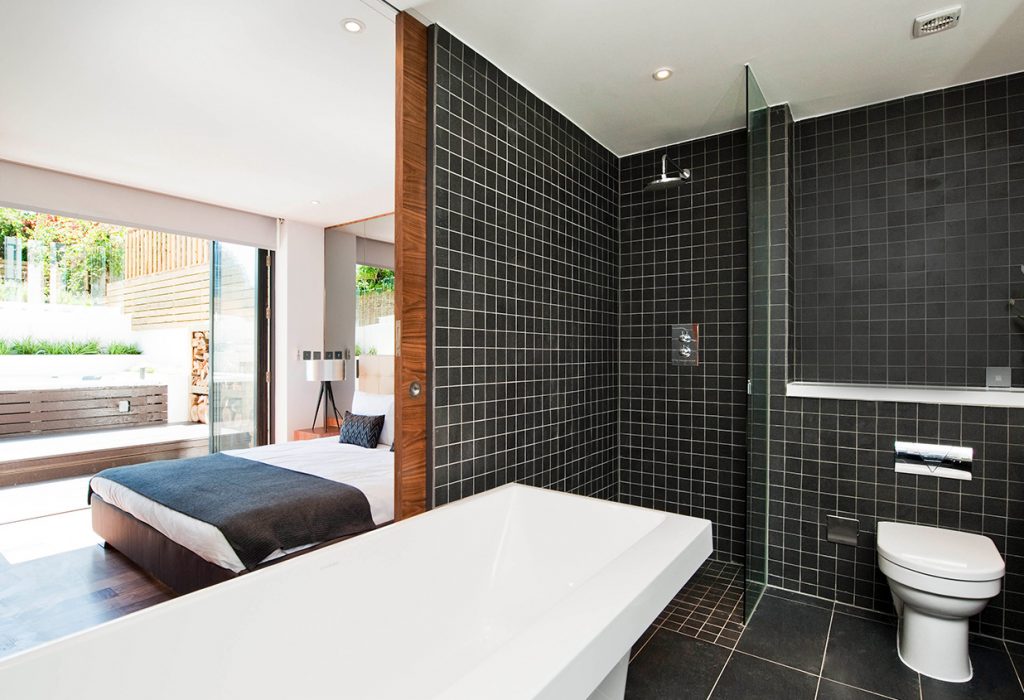 To offer a solution for every setting, the Enigma system has been further developed. The new Glass system uses a glass leaf, together with specially designed glass clamps on the sliding gear.
Each door system is made to order, according to your choice of kit and finish. As these can be pre-painted to any RAL colour, or veneered in any species of timber veneer, the ideal door is available to suit every style of interior. Satin steel ironmongery comes pre-fitted for ease of installation.