Born in Toronto, Canada in 1929, Frank Gehry is probably the most famous living architect.
His most well-known designs, such as Walt Disney Concert Hall in Los Angeles and the Guggenheim Museum in Bilbao have become tourist destinations in their own right.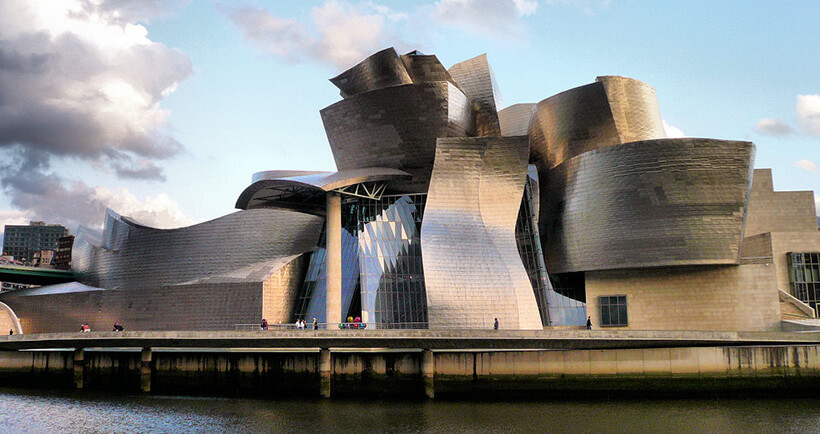 Gehry showed his precocious talent for unconventional design from an early age. Using scrap materials from his grandfather's hardware store, the young Gehry set about constructing miniature homes and cities. This use of 'scrap materials' in design would characterise much of his later work.
His family immigrated to California in 1947, and seven years later Gehry would graduate from the University of Southern California with a Bachelor of Architecture degree. He later went on to study city planning at Harvard, but dropped out after becoming disillusioned with the theoretical nature of the syllabus. In 1961, Gehry chose to continue his architectural education in Paris, studying works by the Great Masters new and old, from Le Corbusier to Balthasar Neumann. It was Chartres Cathedral which had the greatest impact on the young architect, heralding what he himself called a 'turning point' in his understanding of the relationship between art and architecture.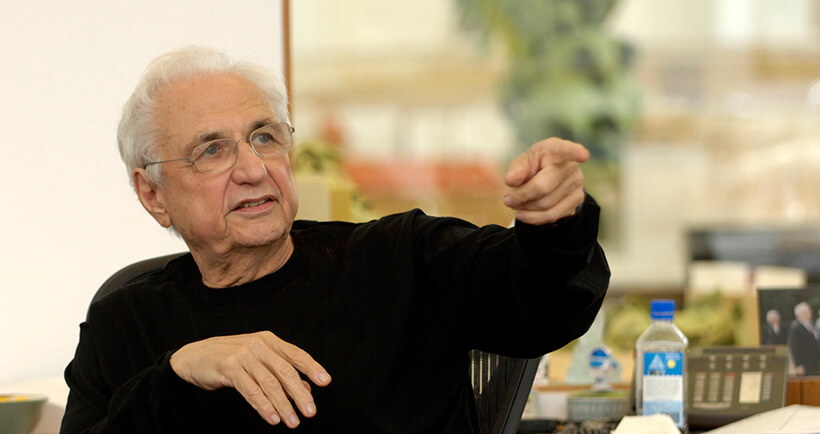 In 1962 Gehry returned to the USA and settled in LA where he established his own architecture firm, Frank O. Gehry and Associates. Gehry first made waves in the architectural world in an unlikely way: with the renovation of his family's Santa Monica bungalow. Originally built in 1925, Gehry transformed this humble abode into an arresting work of art which continues to delight architecture students and cultural tourists to this day. Using his trademark industrial materials, Gehry transformed the property using 'chain link fencing, corrugated metal and huge glass skylights supported by jutting wooden frames'. This renovation proved the catalyst for Gehry's career, and created a demand and excitement for his services which has yet to subside more than 50 years later.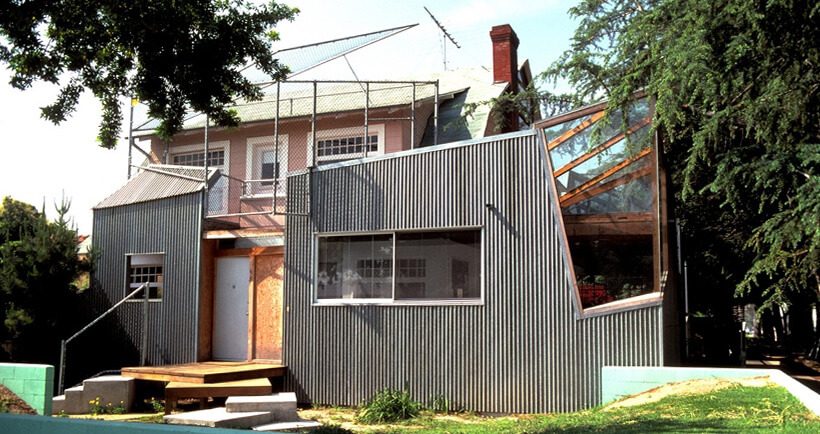 Without a doubt, Gehry's most famous work is the the Guggenheim Museum Bilbao in Spain. It was this building that catapulted him into the realm of fully bonafide 'starchitect' (a term he loathes). Built between 1993 and 1997, and constructed from glass, limestone and titanium, the Guggenheim Museum is a magnificent and endlessly fascinating building, described by The New York Times' architecture critic Herbert Muschamp as 'the miracle in Bilbao'.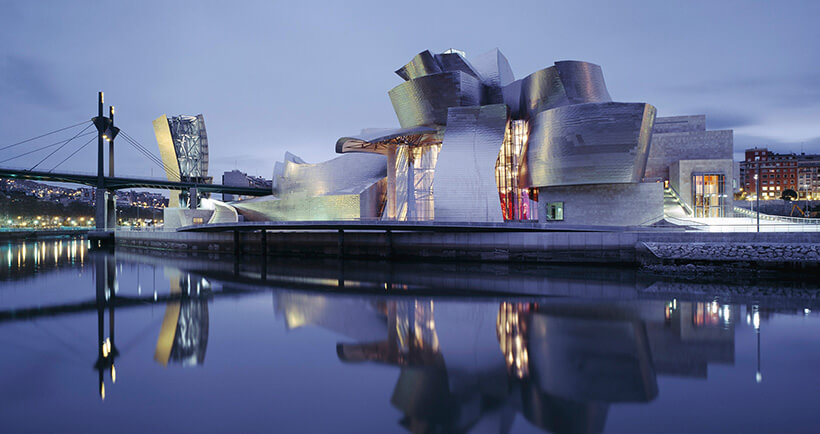 As with any great artist, there is much debate as to which 'school', 'camp' or 'ism' Gehry belongs to. His style is certainly recognisable enough. In the words of his biographer, Paul Goldberger, 'Mr. Gehry's architecture is known for its reliance on harsh, unfinished materials and its juxtaposition of simple, almost primal, geometric forms'. Agreement has not been forthcoming on his architectural philosophy, however. While many observers agree that his buildings are a reaction against the asceticism of modernism, there is disagreement about the extent to which his modernist antipathy extends. For some, his is 'a post-structuralist aesthetic that challenges accepted design paradigms of architecture while breaking with the modernist ideal of form following function'. Goldberger, however, insists that "he's very, very concerned with function—he cares about where the toilets go…..and where you come in, where you go out, and where the closets are. It's not an autocratic or arbitrary architecture. It's an architecture that has its own formal language, but within that language, he's interested in solving problems, not just making shapes.'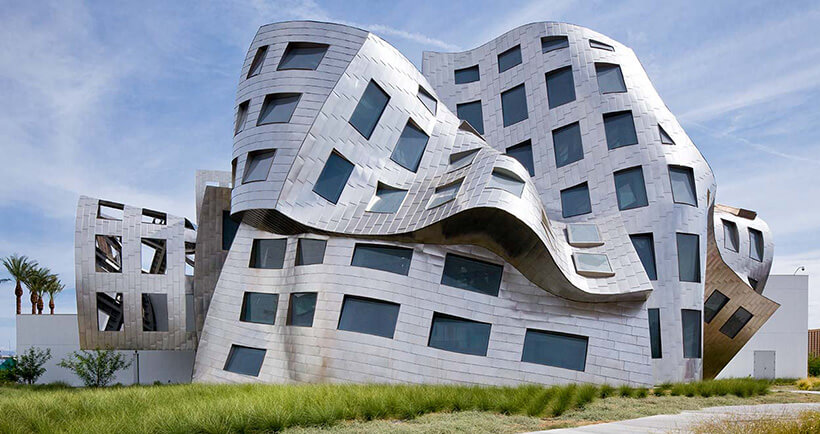 An architect of the 20th century, Gehry was also a trailblazer of the architecture of the new century, which used the power of computers to create and realise architectural designs that were previously thought impossible. While Gehry himself is something of a technophobe, he saw the potential computers held for the world of design early on. He later explained how he 'asked the guys in the office if there was any way they knew of to get where I wanted to go through computers'. Gehry's partner, Jim Glymph, eventually provided a solution, by using a program used to design fighter planes to design buildings instead. Gehry found that computers allowed him to 'parent the project to the end, because (the computer) allows you to make accurate, descriptive, and detailed drawings of complicated forms'.
In recent years Gehry has received widespread recognition for his contributions to the world of architecture. He has been decorated with the Pritzker Prize and the RIBA Gold Medal, while, in 2016, President Obama awarded him with one of the highest distinctions possible for a United States citizen: The Medal of Freedom. He has also served as professor of architecture at Columbia University, Yale and the University of Southern California. Finally, at 87 years of age, Gehry continues to design and build beautiful buildings, with the recently completed Facebook headquarters in Menlo Park, California, one of his finest achievements to date.
Images © Philipp Rümmele, Top Design Architecture, Anothermag, 2017 The Solomon R. Guggenheim Foundation, PJHM Architects