In the second part of our 'Most Influential Architects of the 20th Century' series, we take a look at perhaps the most famous architect of any century: Frank Lloyd Wright.
Born in Wisconsin in 1867, Frank Lloyd Wright would go on to be one of the foremost creative talents of the 20th century. As well as writing over two dozen books, he designed over 800 buildings, of which 380 were built and 280 still stand today.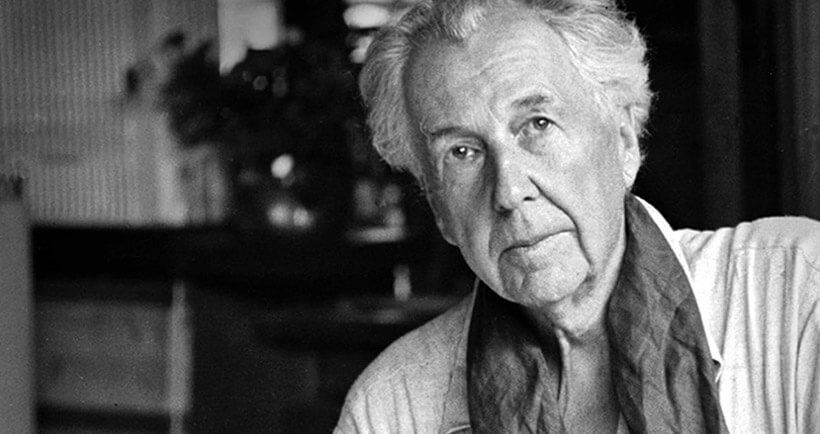 He began his architectural education as an apprentice to the great 19th century architect Louis Sullivan. Sullivan was an advocate of a prosaic, functional architecture, one which eschewed European ostentation in favour of a more utilitarian style. He greatly influenced the young Wright, and infused in him the desire to create an architecture that was distinctly American, one which transcended both the classical European legacy, as well as the new, modern, styles emanating from that continent.
As a Mid-Western boy, Wright remained devoted throughout his life to the beauty of the landscapes of his youth, writing
"The modeling of the hills, the weaving and fabric that clings to them, the look of it all in tender green or covered with snow or in full glow of summer….I still feel myself as much a part of it as the trees and birds and bees are, and the red barns."
The 'modelling' of the Mid Western hills informed the architectural style for which Wright is best known, and which realised Louis Sullivan's dream of forging an architecture that was distinctly American. The Prairie School, with its flowing horizontal lines, long rows of casement windows and gently sloping roofs reflects Wright's commitment to what he called 'Organic Architecture': architecture that not only took its inspiration from nature, but aimed to coexist in harmony with it. The Frederick C. Robie House in Chicago is perhaps the most famous example of this style.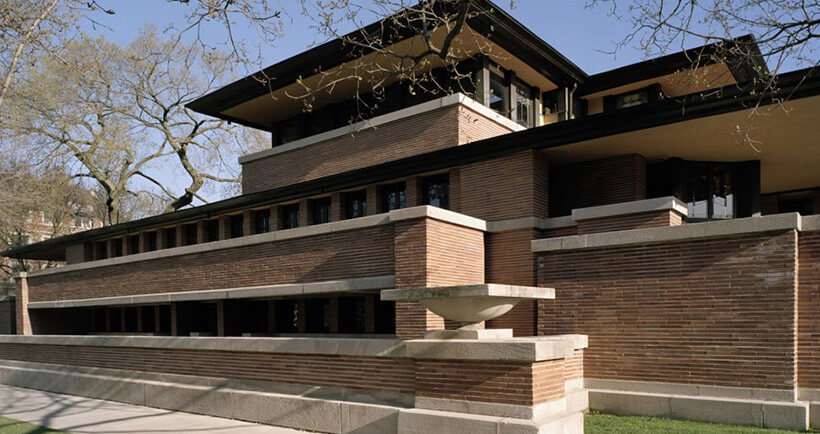 The Great Depression halted architectural commissions in the US, with Wright becoming instead an architectural evangelist, touring the nation's great universities to speak at length on the subject and his philosophy, while reaching a worldwide audience with books such as 'An Autobiography'. In 1935 he returned to architecture itself, and produced perhaps his most beloved work: Fallingwater. Perched above a waterfall, and distinguished by its cantilevered balconies, Fallingwater House in Pennsylvania represents the ultimate triumph of Wright's 'Organic Architecture' ethos, existing in complete harmony with its stunning natural surroundings.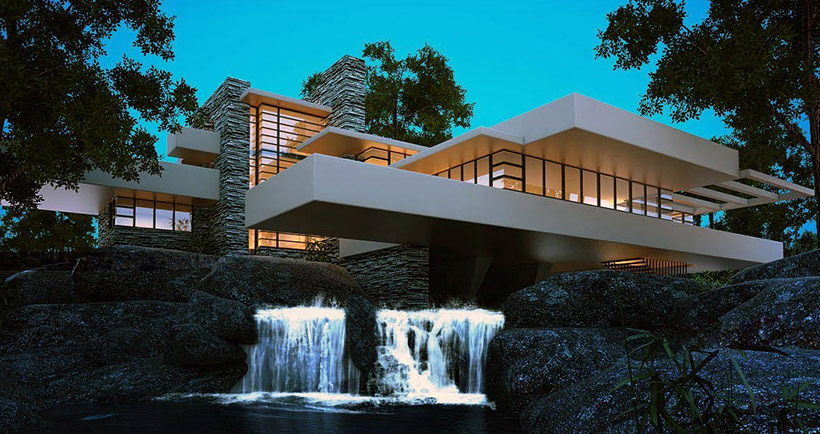 Eight years later Wright began his magnum opus, New York City's Guggenheim Museum of Modern and Contemporary Art. it was a project that would consume 16 years of his life, and one that he would not live to see completed. Nevertheless, this highly innovative building represents a career high note. Rejecting the prevailing museum design model which led visitors through a number of rooms across multiple floors, the Guggenheim exists on one single storey, with visitors being elevated to the top floor on entry, before descending slowly down a spiral staircase as they take in the museum's exhibits. This groundbreaking design was Wright's attempt to emulate the effortless motion of nature, a theme which had informed the best work of his life.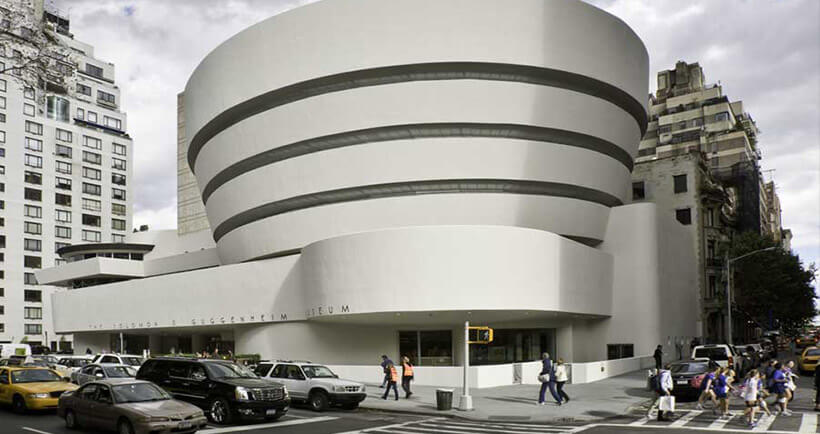 Frank Lloyd-Wright died in 1959, six months before the opening of the Guggenheim Museum. His reputation has ebbed and flowed in the years following his death, with architectural styles inspired both in tribute and opposition to his life's work. He remains, however, by far and away the most famous American architect ever to have lived, and his 280 buildings that still stand today bear witness to his influence in his lifetime and beyond.
Images © Frank Lloyd Wright Foundation, S.Shawky, David M. Heald,