Ever since 2005, when London was awarded the 2012 Olympics, the East End has been undergoing massive regeneration. A key part of that regeneration is International Quarter London (IQL), a development covering 22 acres which, when finished, will provide space for 25,000 workers, as well as 333 new homes.
Europe's largest urban shopping mall and four million sq ft of office space.
The project encompasses two sites straddling the existing Westfield Stratford City, Europe's largest urban shopping mall, and provides four million sq ft of office space. It benefits from the existing infrastructure put in place for the Olympics. Transport links are superb; Stratford station is served by the DLR, Underground, Overground, main line and high speed rail services, which collectively offer over 200 trains per hour at peak times. All of London's airports are accessible within the hour; City Airport is a mere 14 minutes away. To cater for the growing numbers of commuters choosing a fitter route into work, Cycling Superhighway 2 provides a fast, safe route to and from the City.
Other infrastructure elements are similarly impressive, with each building being served by multiple power grids ensuring a highly resilient supply. Ultrafast connectivity is, naturally, also on tap. Each building is connected to a district heating scheme, which provides more efficient heating and cooling systems generating fewer carbon dioxide emissions than conventional systems.
In keeping with its proximity to the Olympic site, IQL has been designed with the physical and mental wellbeing of its occupants very much to the fore. Buildings benefit from a 100% fresh air supply, as well as floor-to-ceiling windows to maximise daylight. Outside, three acres of the site are given over to community spaces, while the 560-acre Queen Elizabeth Olympic Park, including its host of top-class sports facilities, is right next door.
A cultural regeneration is also in evidence alongside the IQL development – for which former Mayor for London Boris Johnson coined the word 'Olympicolopis' to denote its modern-day equivalence to 'Albertopolis', the museum and arts area of Kensington that was created following the Great Exhibition of 1851. Sadler's Wells Theatre will have a brand new 550-seat auditorium, and the V&A East will be home to the UK's first dedicated museum space covering all aspects of digital design, as well as offering galleries with space for exhibitions, research, entertainment and play.
Work on the site began in 2014 and almost a quarter of the total office space that will be available has been pre-let. Transport for London and the Financial Conduct Authority are scheduled to occupy their respective offices in 2017 and 2018. Meanwhile, the first private occupants of IPL's residential element, Glasshouse Gardens, have already moved into their new homes.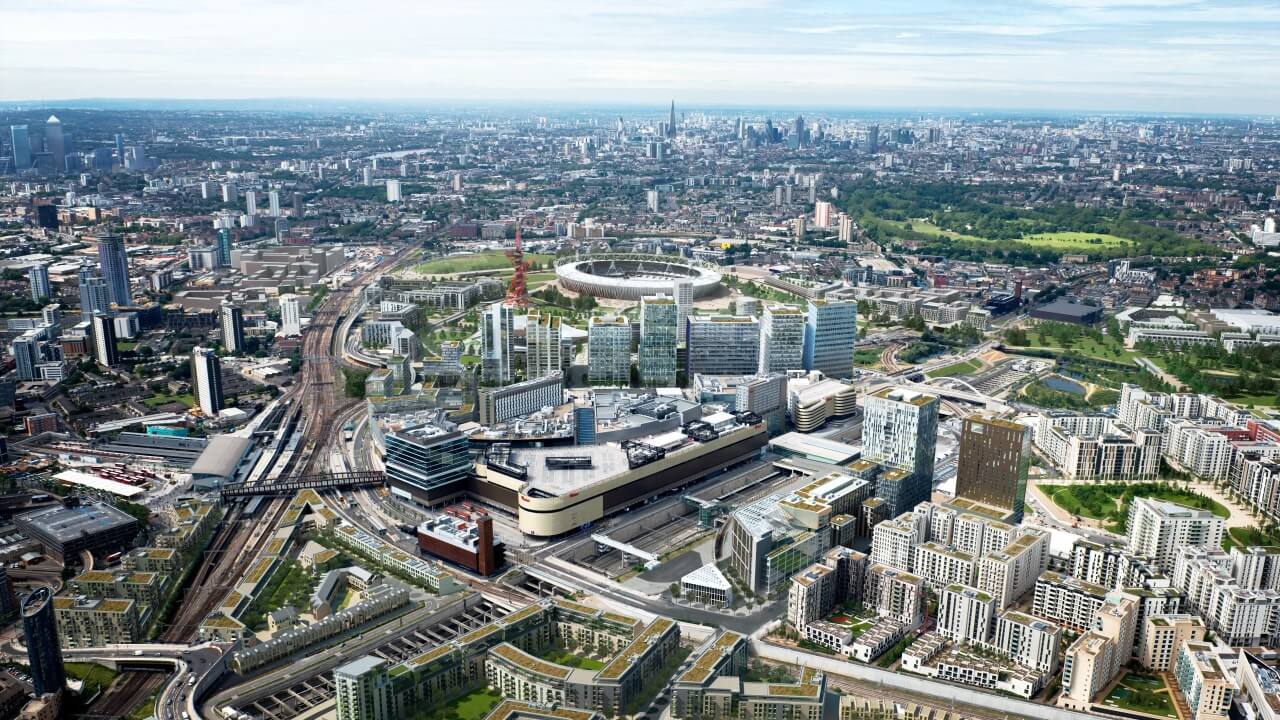 The development of International Quarter London is a joint venture by Lendlease and LCR. Lendlease is an Australian company which aims to regenerate urban areas through "exceptional design, healthier environments and stronger communities". It pioneered the design of buildings that facilitate Activity Based Working (ABW), which encourages workers to utilise different parts of a building according to the task at hand, rather than sitting at the same desk day in, day out. LCR is a UK Government-owned company that manages and develops property assets within a railway context. Its previous projects include the delivery of HS1 and the regeneration of the King's Cross area.
The two development partners appointed a design team comprising five firms: T P Bennett, BDP, Gensler, Pringle Brandon Drew, and Woods Bagot. They work to a masterplan for the site created by Rogers Stirk Harbour and Partners, whose Senior Partner and Lead Designer Ivan Harbour said, "The focus on daylight, views, connectivity and community spaces produces truly cutting-edge workplaces with people at their hearts." Their masterplan includes a design framework that means buildings of different sizes and configurations can be created using the same basic components.
T P Bennett are the architects for the building currently designated as S6. Their Principal Director, Christopher Bennie, said about the project: "We have the opportunity to create a new generation of sustainable office buildings, designed to be thermally and spatially efficient, yet sufficiently flexible to attract a range of occupiers and accommodate their changing needs over time". IQL certainly brings to London a new kind of working environment, fit for the twenty-first century, which benefits from recent knowledge gains in energy-efficiency, environmental friendliness and, not least, in creating workplaces that people enjoy working in (which in turn leads to measurable improvements in their productivity).
To ensure that the sleek interior lines within S6 are not compromised by ugly riser doors and rarely opened service cupboards, T P Bennett specified our Quadra system as part of the interior build, which is being handled by London Drywall. The Quadra doorset is quick and easy to install, with all locks and hinges pre-fitted. Its 2-hour fire rating and over-40dB acoustic performance, matches the high specifications followed across the whole of the IQL development. We are delighted that our products are contributing to such a landmark development.
London won the 2012 Olympics on the basis of its promise not only to deliver a once-in-a-lifetime sporting event but to regenerate an entire area of London for future generations to enjoy. International Quarter London is very much part of that promise and adding to the buzz that already surrounds Stratford, helping the East End complete its transformation from a shabby and neglected area to one where people actively aspire to live and work. As the Chief Executive of the London Legacy Development Corporation – the body set up to ensure a successful follow-up to the Olympics – put it;
"What better way to measure the success of the London 2012 Games than to see even more land being used to create jobs and boost the economy of east London".
Images © The International Quarter