We've collected up 5 of our favourite doors from around the world to share with you. From England to Morocco, these doors are heaped with symbolism and a whole load of history.
1. Number 10 Downing Street
First and foremost, the residence of the UK Prime Minister. Number 10, Downing Street.
This beautifully polished black door has sure had one remarkable life. 56 Prime Ministers have walked through it to call the other side their home. It's a backdrop for all sorts of interviews, news broadcasts, and statements regarding world events. It's sat through world wars, an IRA bombing, and shares its fame with a cat. It's possibly the most televised door in the world.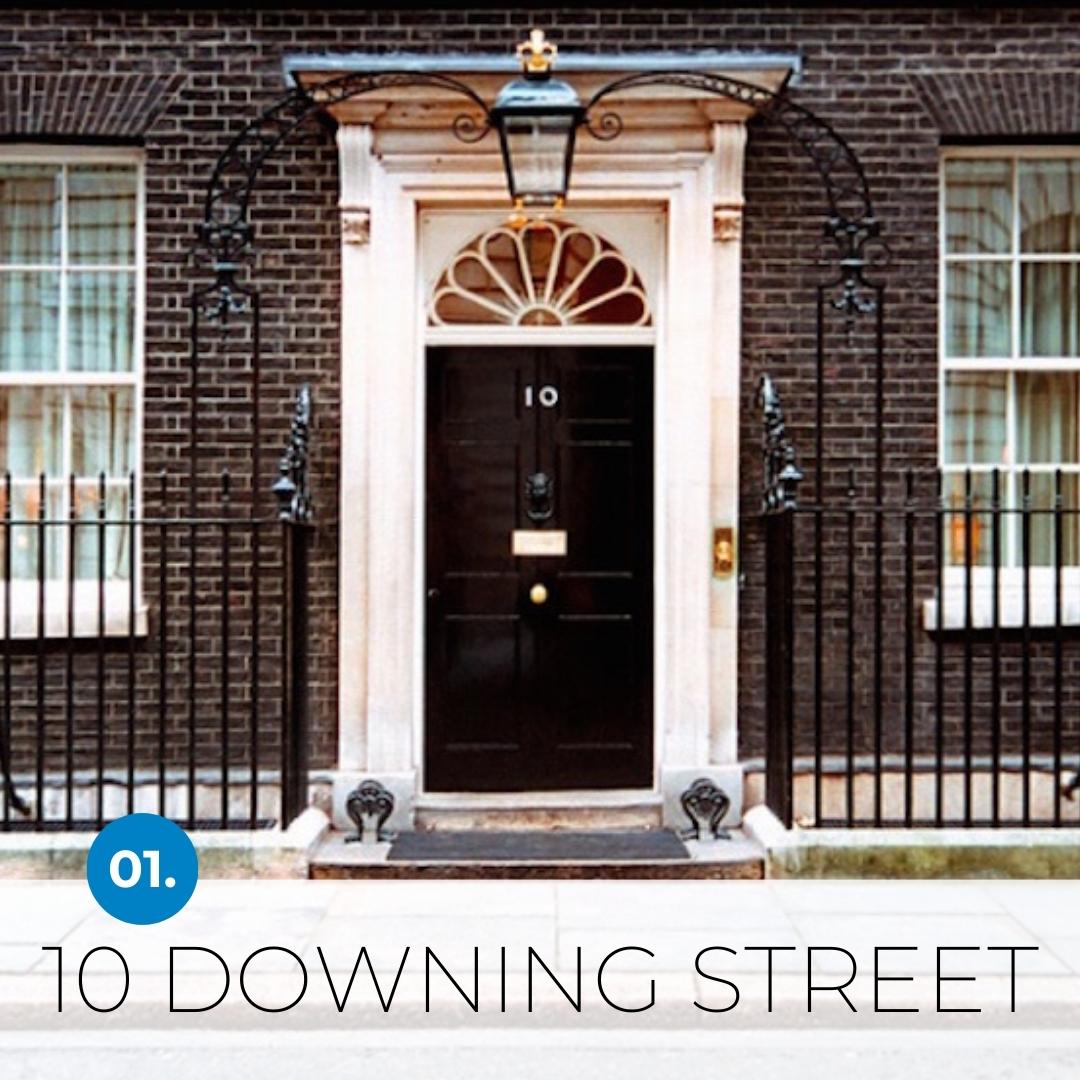 The original door was removed during World War 2 and a new replacement was made from bomb-proof metal and coated in high-quality gloss, hence its shininess. You'll also notice the zero is wonky, and at a 37 degree angle anticlockwise to be precise, while some suggest it's not a zero at all but rather the letter 'o'. The door also doesn't have a letterbox but merely a brass plate, and there's no handle to open the door from the outside. But don't worry, there's always someone on guard inside to open the door when needed.
Find out more about the history of the Number 10 door in our previous blog here
2. St Peter's Basilica Door
A door that's only opened in a holy year, which occurs every 25 years. It's the Holy Door (surprisingly) at St Peter's Basilica. The door is sealed from the inside at all times with a brick wall to prevent entry until the holy year, when the pope strikes the wall with a hammer to open it before it gets fully demolished and pilgrims can enter through it. The wall then gets rebuilt to seal the door for the next 25 years. It was last opened in 2000 so just another 2 years to go.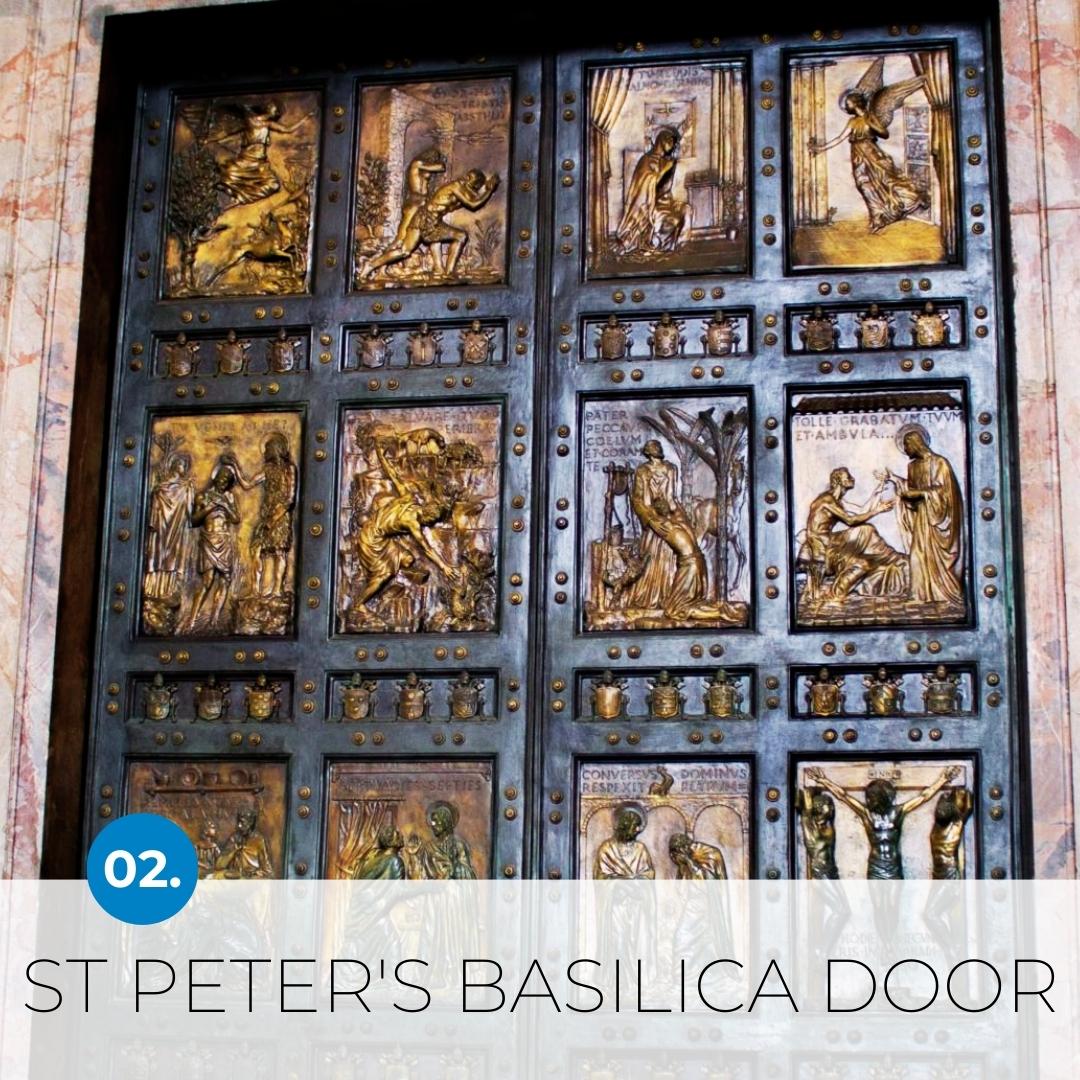 The church is located in Vatican City, Rome and can hold up to 20,000 people. It has an impressive dome that was designed and started by Michelangelo and continued by Giacomo Della Porta and finished by Carlo Maderno in 1614. The design can be seen to mirrored in other cathedrals around the world like the Capitol in Washington and St Paul's Cathedral in London.
3. 221B Baker Street
Home to one of the most well-known detectives in fiction history – Sherlock Holmes.
When the series was originally written, Baker Street only went up to number 85 but in the 1930s the road was extended further and 221b is actually Number 239. The building covering numbers 215 to 229 started getting flooded by fanmail from Sherlock admirers, so much so that there was a 'Secretary to Sherlock Holmes', who was responsible for responding to all the letters received.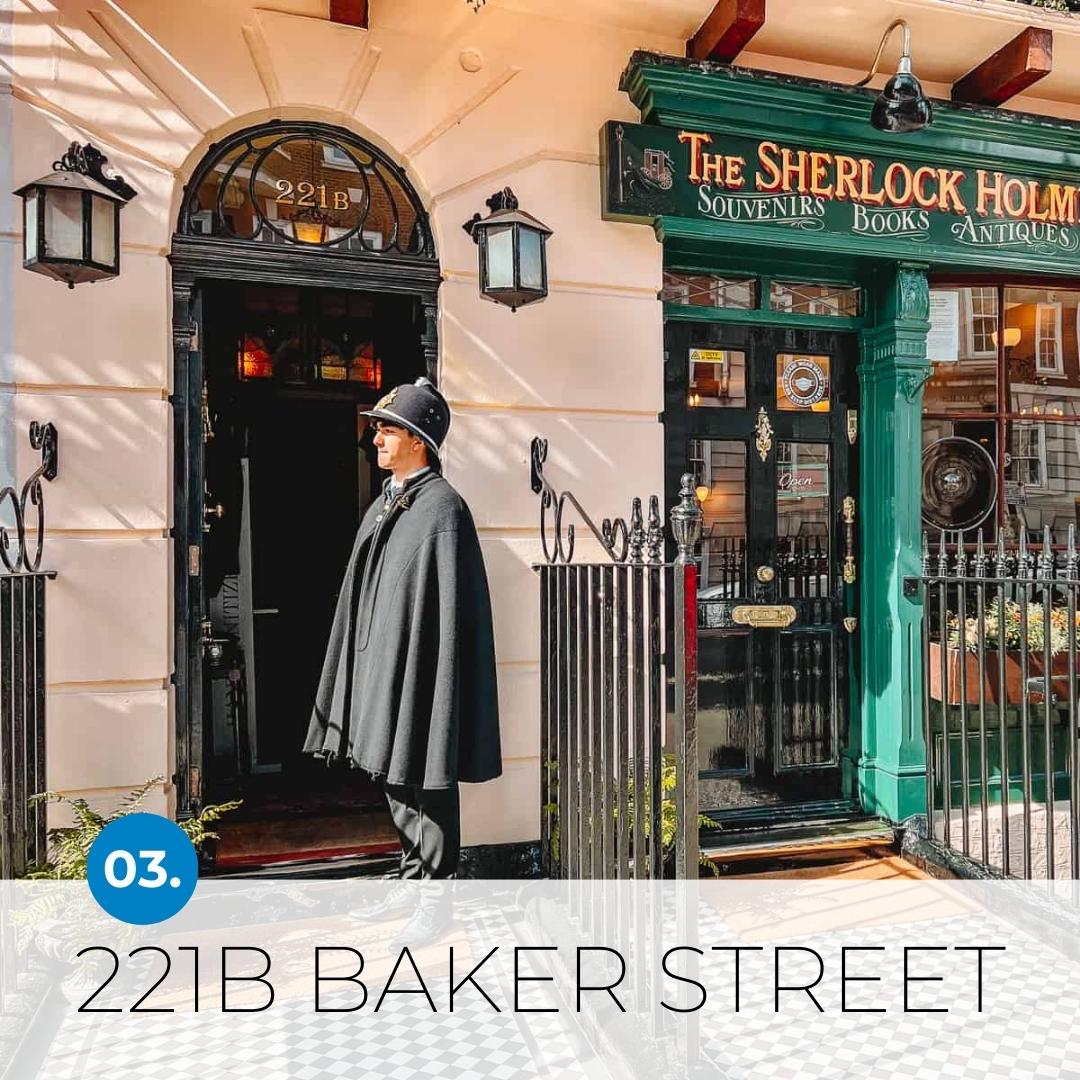 Now you can actually walk through the door at 221B to enter a world of mysteries and sleuthing and see inside the fictional realm of Sherlock and Watson.
4. The Royal Palace Doors
It's inevitable that every palace is going to have some pretty stunning front entrance. Buckingham Palace's wide courtyard is surrounded by the iconic wrought-iron gates while The White House has an enormous 2 storey high porch, with steps leading up to the main entrance doors. But not many royal buildings/residences actually have such stunning front doors as The Royal Palace Doors in Morocco. Although its also argued that they are actually gates due to them not going directly into a building. But for the purpose of this blog they will be doors.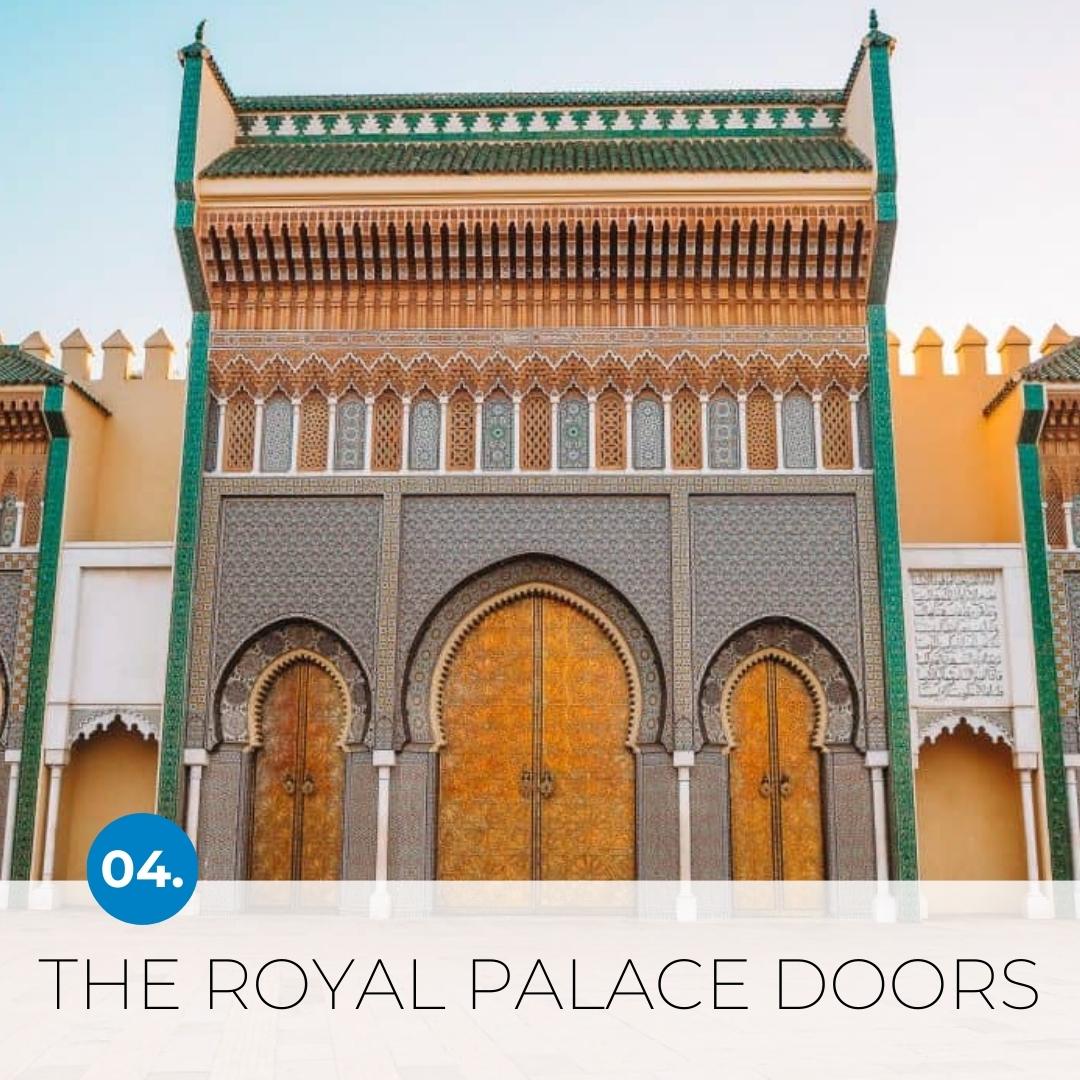 The 7 grand entrance doors are covered with intricate patterns, finished in a gold-finished bronze called Ormolu, and surrounded by mosaic tiles. Although the public are not allowed in the palace itself you can walk right up to the main doors which certainly make up for it, and provide an incredible photo opportunity!
5. The Peacock Doors
And last but not least The Peacock Doors at Palmer House. This historical building was opened in 1871 and when the jeweller 'House of Peacock' moved in on the street level, customers entered through the bronze, hand-forged, doors that feature 2 peacocks from top to bottom. And these doors are not going to be moved in a hurry with each one weighing over half a ton!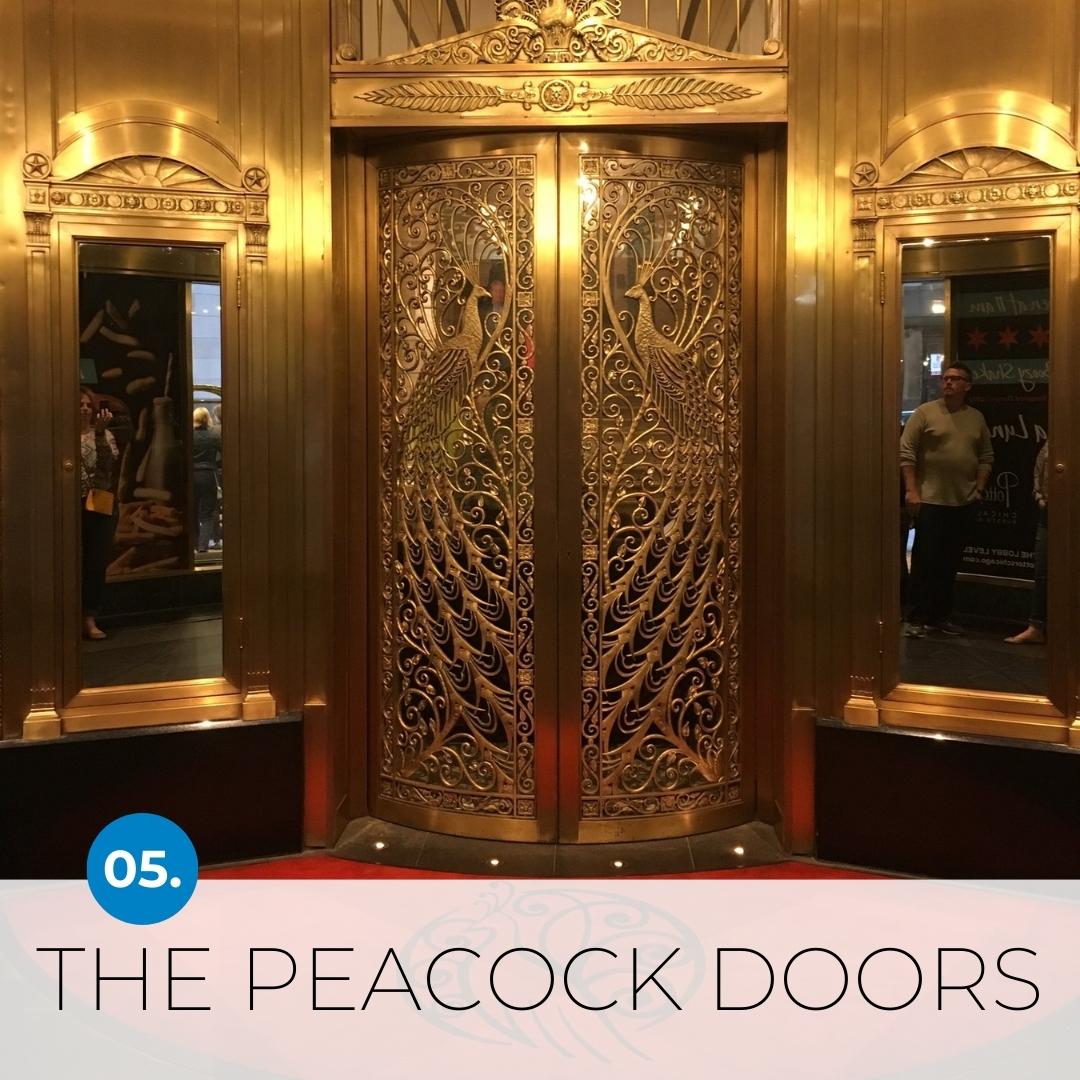 There are so many more fascinating and symbolic doors that can be found all around the world such as these Hobbit Doors that you can tour in New Zealand, or the Columbus Doors in America, depicting the life of Christopher Columbus.