Intumescent and fire safety
It is common knowledge that intumescent materials play a vital role in the effectiveness of fire doors, by expanding and closing the gap around the edge of the door in the event of a fire. The intumescent restricts the passage of fire and hot smoke throughout the building.
Riser doors must be protected
Riser doors are quite possibly the most important access door in a building for preventing the spread of fire to other floors, yet we often see or hear about them failing building inspections because of the way they have been fitted with intumescent sealant – or in some cases not having intumescent at all!
The wrong sealant
Traditionally, intumescent sealant is applied on site when the door is installed. For the door to be compliant, it must be the correct sealant, sourced from reputable manufacturers with suitable supporting test evidence or third party certification. If the wrong sealant is used, this will invalidate the fire door's certification.
Incorrectly applied sealant
We have seen some truly shocking examples of incorrectly applied intumescent sealant around doors on-site – gaps in the sealant and protruding packers are the most common causes of inspection failure. Without an uninterrupted seal of intumescent sealant around the periphery of the riser door, fire and smoke will pass through to areas where it is likely to spread to other floors. Failing fire safety compliance inspections is frustrating, causes delay and additional expense – what is even more worrying is if faulty or missing intumescent sealant is not identified in an inspection, this constitutes a very real threat to life safety.


Reducing risk
It can be difficult to manage the changing needs of an evolving construction site but one way to reduce reliance on variable workmanship is to fit the intumescent to the riser door before it leaves the factory. This means it arrives 100% preassembled, ready to be installed as intended. It also means the installer doesn't have to work within the riser to apply intumescent, which removes the risk of falling from height – one of the most common causes of workplace injuries.
Factory-applied sealant is a quick and simple solution which mitigates risk all round and gives contractors, building control and building owners real peace of mind regarding fire safety. It removes all the unknowns around who will install on site whilst saving time in the overall installation process.
Introducing Quench®
It was with these considerations in mind that we introduced the first pre-intumescent option on riser doors to the market – given that we created the riser door in the first place. Our metal riser door systems now all have the option to arrive on-site with our patent-pending fire-stopping material Quench already in place. This makes the doors super simple to install with just a cordless-drill, screwdriver, spirit level and screws.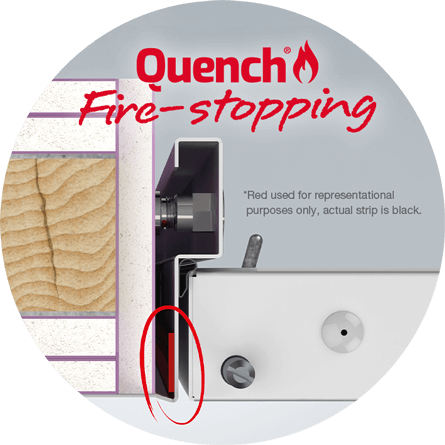 Quench® has been rigorously tested by UKAS accredited test laboratories to achieve an E120 fire resistance rating when used in conjunction with Selo's Quadra+ and Tega concealed frame riser door systems.
Find out more here.