On 31 March 2016, Zaha Hadid 'The Queen of the Curve', died aged 65. Just over a year after her death, we take a look at her legacy, as an architect, a teacher and as a woman.
'A Mythological Aura'
Zaha Hadid was born in Baghdad, Iraq, in 1950. She studied mathematics at the American University in Beirut before relocating to the UK, where she would later take citizenship, to study architecture at the London Architectural Association in 1972. The artist Madelon Vriesendorp, who taught Hadid in painting workshops during this period, later recalled how 'even as a student, Zaha had a kind of mythological aura around her'. Her artwork, which foreshadowed her later architectural designs, were replete with 'crazy forms bending, twisting and warping'.
In 1979 Zaha established her own architectural practice in London, Zaha Hadid Architects. She gained a reputation as a cutting-edge theoretical architect, with works such as the 1983 Peak in Hong Kong and the 1986 Berlin Kurfürstendamm, which explored in daring new ways the interface between landscape, architecture, and technology.
It was her buildings which made Zaha famous, however, and it is of course here where her legacy is most visible. Her first major commission was the building which established her reputation: the 1993 Vitra Fire Station in Germany. The building was breathtakingly bold, but its angular design is not immediately identifiable with the voluptuous, free flowing curves which would characterise Zaha's most famous works. Zaha's most celebrated work was completed twenty years after her first was commissioned, in 2013. The Heydar Aliyev Cultural Center in Baku is today one of the most famous buildings in the world, and the flowing ribbon-esque style of the building is considered one of the most original designs ever conceived in modern architecture.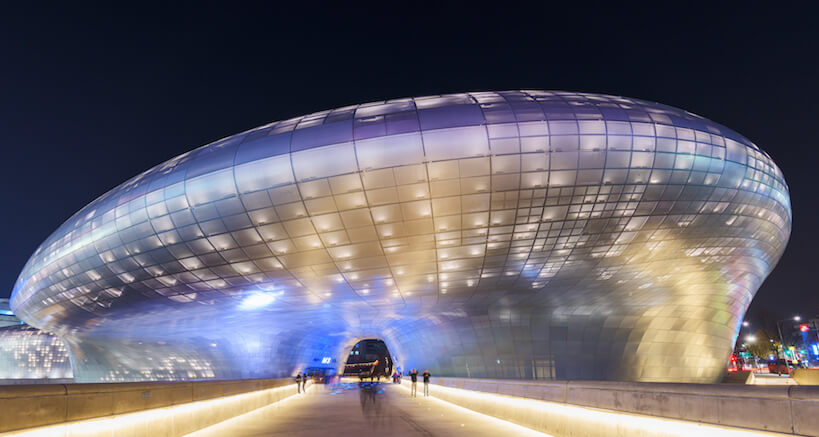 Living Legacy
As a leading architect and theoretician, Zaha also devoted much time and energy to teaching, lecturing at the Yale School of Architecture, the Harvard Graduate School of Design and the University of Illinois at Chicago's School of Architecture. In the final course she taught, Zaha's students at Yale School of Architecture designed a mixed use project: London's Bishopsgate Goodsyard. The design, which includes staggered towers which seems to be growing organically out of the ground, is quintessentially Zaha. It is not difficult to imagine that many of the buildings of tomorrow, built by students and admirers of the late architect, will continue to realise her distinctive architectural vision and form a part of her legacy, alongside her existing buildings.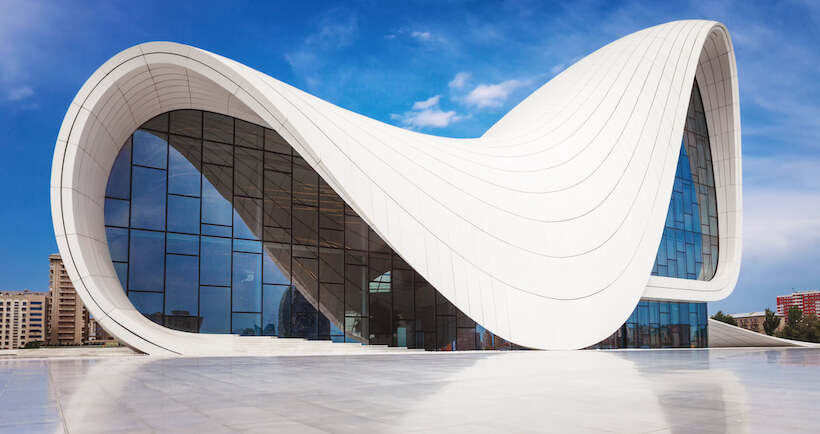 'A Double Edged Sword'
Zaha is remembered and celebrated today not only as a trailblazing architect, but as a trailblazing female architect. Some may prefer to remember her solely for her work, but her gender was in many ways a significant feature of her career. In a male dominated industry, Zaha had to be exceptional to gain recognition, driving her to become 'twice as smart and three times as tough as her male counterparts in order to get anything built'. In an interview with the Guardian, Zaha revealed 'the enormous resistance I've faced just for being an Arab and a woman on top of that. It is like a double-edged sword.' She felt this resistance when she first arrived in London to study at the Architectural Association from Iraq. Her friend and collaborator Kathryn Hiesinger spoke of how Zaha had told her of 'how hard it was for her as a woman, a Muslim, and an Arab, going to [the Architectural Association] in London, which was really an old boy's club'.
Zaha went on to become the first woman to be awarded the Pritzker Architecture Prize in 2004. She was awarded the RIBA Stirling Prize twice, and in 2016 was the first woman to be solely awarded the RIBA Royal Gold Medal. Despite the exceptional success of Zaha, the gender barrier in the architectural profession remains very real. In 2013 the American Institute of Architects found that while around 50 percent of architecture students were female, they accounted for just 18 percent of licensed architects. So while Zaha's success as an architect remains almost entirely 'exceptional', the very fact of her unprecedented fame and success as an architect may see the female architects of tomorrow greeted with less resistance than that which Zaha herself endured when she first arrived at the London Architectural Association from Iraq all those years ago.
For more on Zaha Hadid, check out our blog on The Top 5 Most Beautiful Zaha Hadid Buildings.