Via concealed, steel, fire-rated, access panels offer a lockable service cupboard that is powder-coated as standard. This can either be left as-is, or over-painted to match the surrounding décor for an even more discreet aesthetic. The Via flush access panel is manufactured from robust Zintec steel to your specifications at the size required. Common sizes include:
Square: 300x300mm / 450x450mm / 600x600mm / 900x900mm
Rectangular: 900x600mm / 1200x600mm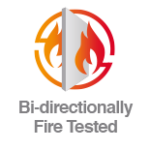 Via Access Panels have been extensively, bi-directionally tested for resistance to fire. The fire ratings are E120/Ei120, E60/Ei60 or Non Fire Rated. This means that the doorset is fire-rated using both sides of the door ensuring complete protection. Also acoustically rated up to 41Db. With 3 configurations available it's easy to specify the perfect fit for your project; choose from two frame styles;
concealed beaded frame or visible picture frame.